Certified Remote Workforce Leader
.
Take your organization and career to the next level
Certified Remote Workforce Leader™ (CRWL™)
Training for remote workforce leaders and managers
The "Zoom economy" has changed everything, including the way in which we engage and manage remote employees. In this powerful program, you will learn how to leverage weekly sprints to increase and measure employee productivity. You will develop new remote engagement tools that will drive productivity while improving your employee's productivity and quality of work life.
Listen to one of our podcasts that talks about succeeding as a remote worker leader.
Maximize productivity, reporting, and quality of work-life
Avoid the common mistakes and mishaps of managing remote teams.
Developing your "Zoom brand."
Avoiding common technology mistakes
Engagement and presentation skills
Developing your weekly Sprint plan
Stakeholder productivity measurement and reporting
Leveraging game mechanics to increase remote employee engagement
Social engagement skills to drive productivity and quality of work-life.
About this course
This program is designed for remote employee leaders and managers that are looking to significantly improve employee productivity, quality of work-life, and reporting of their remote teams. The course takes approximately 2-3 hours and includes all course material and exams.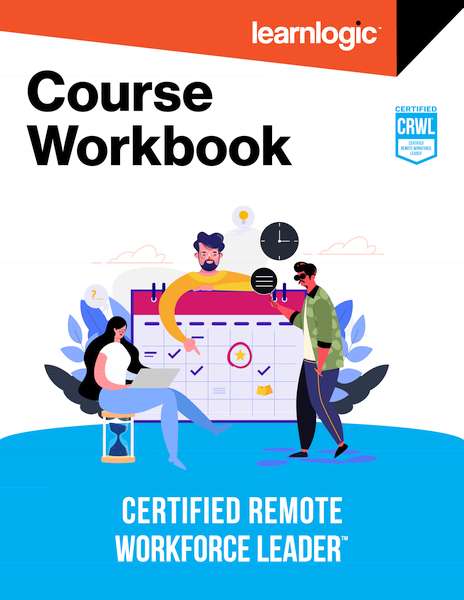 Simply the best Certified Remote Workforce Leader training.
Leaders and managers need to quickly develop actionable skills on how to manage remote teams to optimize productivity while ensuring an exceptional quality of life for team members. Our (CRWL) program provides you actionable insights on how to lead superstar teams. Unlike bloated programs that provide non-actionable insights, we focus on practical real-world skills with proven results.
What you get:
Your registration fee includes all online training and course material
Once you complete the program, you will receive your Certified Remote Worker Leader (CRWL) Certificate Designation
You are also granted full authorization to use the certification logo on your website and social channels including LinkedIn, Facebook and Instagram. This is a fast way to build your career and your personal brand
You will also be subscribed to our weekly podcast to keep your learnings fresh
Most importantly you will receive the most actionable insights in the shortest period of time, which will allow you and your career to soar
Lastly, you will become part of the prestigious learnlogic™ alumni community. This will provide you the opportunity to collaborate and network with other alumni members
"LearnLogic provided useful, practical information that I could instantly apply at my job. "
Chris C.
Business Development Professional
"This program gave me the skillset and important information needed to advance my career. The templates and resources were well-organized and applicable."
Jesse C.
Operations Manager
"The program went by really fast, and I learned a lot."
Stacy K.
Project Management Leader
"I loved this program! It's not really a complaint, but I was learning so much that I wish it could have been just a little bit longer."
Taylor S.
Director of Marketing