Take your organization and career to the next level
Remote Work Certified™ (RWC™)
Our certified remote workers become superstars at managing the disparate tasks of a home and work life. This powerful program provides great insights on how to compartmentalize work and home. It also provides practical skills on how to leverage weekly trajectory planning to maximize productivity and reporting while significantly reducing stress. The focus of this program is to improve the quality of work-life for remote workers while at the same time managing and measuring productivity. Our program can provide returns on investments in increased productivity in a matter of just a few weeks.
Course price is $495, on sale now at $195
Classes begin March 15th, 2021
Listen to one of our podcasts that talks about succeeding as a remote worker.
Actionable takeaways include
How to develop your "Zoom brand."
Avoiding common technology mistakes
Engagement and presentation skills
Developing your weekly Sprint plan
How to compartmentalize your work and home life
How to reduce and manage stress
How to increase productivity through our Sprint project planning
How to create the best progress report
About this course
This program is designed for remote employees that are looking to significantly improve productivity, quality of work-life, and reporting of their work. The course takes approximately 1-2 hours and includes all course material and exams, and has no prerequisite. The course investment is just $199. Team and enterprise discounts are available at a significant discount. Our students demonstrate their value to employers by understanding how to provide the highest amount of productivity through our certified training. This is a great investment for individuals and organizations. (Year Created 2021)
What makes us different is what makes us better.
Our programs have been developed by Certified Management Consultants and true subject matter experts. Our content was created in 2021 and addresses all of the contemporaneous issues facing employees and leaders in a time of massive change and disruption. Our programs are delivered in a short nano-packet that is conversational and approachable. We eliminate two-thirds of the wasted time delivered by competitive programs. We only deliver relevant and "future-facing" content to our students. Our programs are not theoretical; they are highly practical and provide real-world practices that you can apply immediately within your organization.
100% moneyback guarantee
All of our programs come with 100% moneyback guarantee your happiness is always guaranteed at LearnLogic. No risk, just a great opportunity for your career and your organization.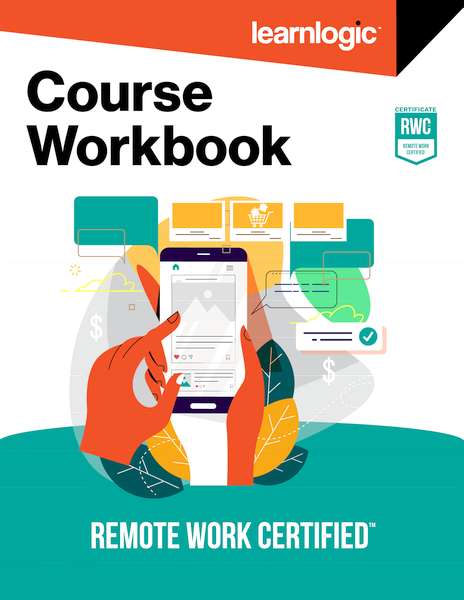 Simply the best Remote Work Certified training.
Remote workers need to quickly develop actionable skills on how to manage remote work to optimize productivity while ensuring an exceptional quality of life. Our (RWC) program provides you actionable insights on how to thrive in a time of disconnect. Unlike bloated programs that provide non-actionable insights, we focus on practical real-world skills with proven results.
What you get:
Your registration fee includes all online training and course material

Once you complete the program you will receive your Remote Work Certificate (RWC) Certificate designation

You are also granted full authorization to use the certification logo on your website and social channels including LinkedIn, Facebook and Instagram. This is a fast way to build your career and your personal brand

You will also be subscribed to our weekly podcast to keep your learnings fresh

Most importantly you will receive the most actionable insights in the shortest period of time, which will allow you and your career to soar

Lastly, you will become part of the prestigious learnlogic™ alumni community. This will provide you the opportunity to collaborate and network with other alumni members
"LearnLogic provided useful, practical information that I could instantly apply at my job. "
Chris C.
Business Development Professional
"This program gave me the skillset and important information needed to advance my career. The templates and resources were well-organized and applicable."
Jesse C.
Operations Manager
"The program went by really fast, and I learned a lot."
Stacy K.
Project Management Leader
"I loved this program! It's not really a complaint, but I was learning so much that I wish it could have been just a little bit longer."
Taylor S.
Director of Marketing
Frequently asked questions
Visit our frequently asked questions page to get instant answers to the most common questions. If you don't find an answer to your questions, no problem, just reach out we love our customers. 
Is there a money back guarantee?
Simply complete your first four lessons, and if you're not happy with the content or the training method, simply request a no-questions-asked money-back guarantee. Individuals that choose to complete the course, would pay for their training.
How do I request and receive a refund?
Simply reach out to one of our customer service representatives to quickly process a qualifying refund. We are open from 8 AM to 5 PM Mountain Standard Time, Monday through Friday.
Is recertification required?
All of our certification programs require recertification every three years. We do this to make certain that employers know that we are keeping our students up-to-date with the latest technologies and best practices. The recertification fee is only $299 and it includes your recertification course and material. Certificate programs do not require recertification.
Do you provide technical support?
Yes, our office hours are from 8 AM to 5 PM Monday through Friday Mountain Standard Time. We have designed our programs to be problem-free by leveraging an established LMS platform. We want your experience to be amazing so were always glad to help.
Do you provide discounts for not-for-profit corporations?
Our discounts are based on volume, not the structure of an organization. However, we do offer good institutional discounts. Simply reach out and we will find a solution and a price that works for your organization.
Do you provide discounts for multiple employees?
Absolutely, please reach out to us for a custom quote.
Do you provide custom training?
Absolutely we have a wide range of resources that include instructional design, video production, live/virtual training, and training event management. Please reach out we would love to help you build a world-class custom training solution.
Do you help in the area of implementation?
We provide a best-in-class consulting services solution for all of the areas that we provide training. If you are looking for a turnkey solution that includes strategy, implementation, and training we can help.
Do you provide live and live virtual training?
All of our programs are available as live or virtual live workshops and training programs. They can also be customized and branded for your organization. We also provide white labeling solutions for other training organizations.